AAIC Partners Africa Ltd. has signed an MoU with KRU, together with two other Japanese companies— Hiraku Company Ltd and SEITOKU Company Ltd.
Singapore- 07th December 2022- AAIC Partners Africa Limited (AAIC Kenya) is pleased to announce that AAIC Partners Africa Ltd., a Kenyan local subsidiary of AAIC Holdings Pte. Ltd., has signed a Memorandum of Understanding (MoU) with Kenya Rugby Union (KRU) together with HiRAKU Company Ltd and SEITOKU Company Ltd.
HiRAKU Company Ltd is owned by former Japanese National Rugby Team Captain Toshiaki Hirose. This partnership will allow AAIC Kenya to further support Kenyan Rugby through sponsorships, particularly from Japanese Companies, to develop pathways of talent and opportunity for the talented player's further training and studies in Japan.
Kenyan athletes are especially known for marathons or long-distance running races; however, they have also been proving their potential in Rugby. Kenya won its first tournament in the World Rugby Sevens Series after beating Fiji at the 2016 Singapore Sevens.
AAIC Kenya has been supporting Kenya's Economic growth through strategic consulting services, primarily focusing on Japanese companies that are looking to expand overseas. We would further continue this support from the CSR perspective, mainly by providing talent management, training, and education opportunities.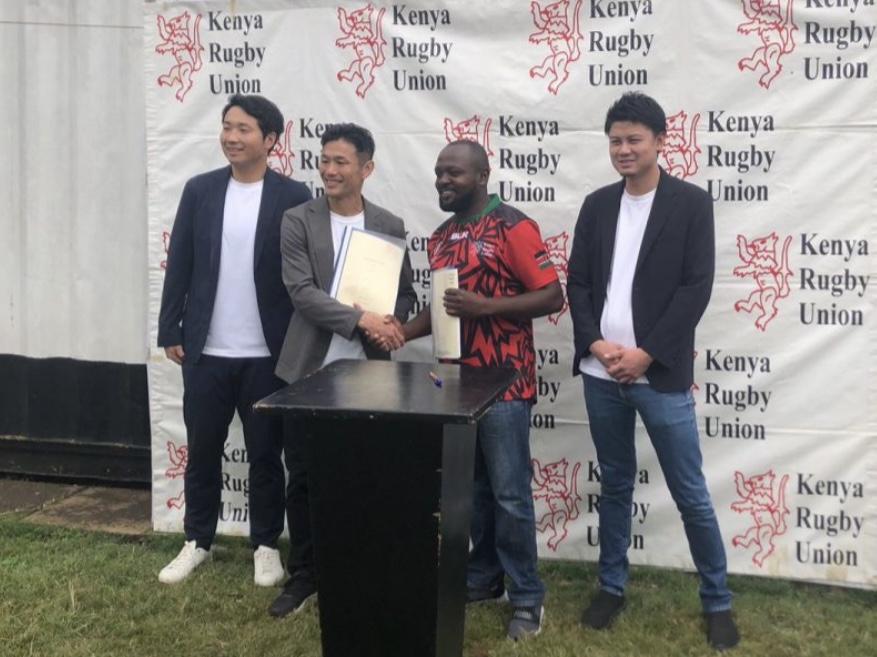 ※Kohei Yuba, left, is the CEO of SEITOKU Company Ltd. second from the left is Toshiaki Hirose, former Japanese National Rugby Team Captain and now the owner of HiRAKU Company Ltd. Third from the left is Aggrey Wabulwenyi, CEO of KRU. Right is Chiaki Hoshino from AAIC Partners Africa Ltd.
※Click here for the News Release from KRU
■Overview of KRU
Name: Kenya Rugby Union (KRU)
Headquarters: Nairobi (Kenya)
CEO: Aggrey WABULWENYI
Year of Foundation: 1923
URL:https://www.kru.co.ke
Main Activities:
Kenya Rugby Union (KRU) is the governing body for rugby union in Kenya. It is affiliated to Rugby Africa and the international governing body World Rugby.
KRU is responsible for the running of the Kenya national rugby union team, domestic clubs, and school rugby competitions.
■Overview of HiRAKU Company Ltd
Company Name: HiRAKU Company Ltd
Address: Fujisawa, Japan
CEO: Toshiaki HIROSE
Year of Incorporation: 2019
URL: https://hiraku-japan.com
Main Business:
Social innovation through rugby and sport management, talent scouting, and education.
■Overview of SEITOKU Company Ltd
Name: SEITOKU Company Ltd
Headquarters: Osaka, Japan
CEO: Kohei Yuba
Year of Incorporation: 2011
URL:http://seitoku-jp.com
Main Business:
Design, development, construction, marketing and sales, maintenance of precision equipment, industrial labor-saving equipment, inspection equipment. Software development and sales, overseas expansion, etc.
■Overview of AAIC Holdings Pte. Ltd.
Company Name: AAIC Holdings Pte. Ltd.
Headquarters: Singapore
CEO: Susumu TSUBAKI
Year of Foundation: 2008 (AAIC Group)
URL: https://aa-ic.com
Main business:
AAIC achieves growth for our clients through a 3-in-1 business model of know-how (strategic consulting & execution), capital (incubation & investment), and talent (HR services & global network). The strategy consulting and execution support business provides growth support with a focus on emerging markets (Asia, Africa, etc.) and new fields (new businesses, cutting-edge technologies, etc.).
We provide comprehensive consulting services, from solving strategic issues to executing business in emerging countries and new fields. In addition to consulting and supporting mergers and acquisitions, we facilitate business growth through joint ventures and partnerships. With offices in Singapore (head office), Tokyo (Japan), Shanghai (China), Mumbai (India), Nairobi (Kenya), Lagos (Nigeria), Johannesburg (South Africa), and Kigali (Rwanda), we have acquired considerable experience and a track record of achievements in the field. Through our local network, we provide consulting services to a wide range of clients, from global leaders to start-ups and from incubation to execution.
For the investment business, we established the first Japanese fund (Africa Healthcare Fund, AHF1), specialising in investment within the African healthcare space. In addition, Africa Innovation & Healthcare Fund (AHF2) was established and started to be managed by AAIC Investment in 2022. As of December 2022, we have invested in over 30 companies. The fund will continue to invest in and support the growth of innovative companies towards sustainable economic growth and solving social issues.
■Overview of AAIC Partners Africa Limited
Company Name: AAIC Partners Africa Limited
Headquarters: Kenya
Representative: Hiroki ISHIDA
Year of Incorporation: 2018
URL: https://aa-ic.com
Main business:
Develops strategic consulting, execution support and investment business mainly in the East Africa region.
Contact:
Chiaki HOSHINO, Manager of AAIC Partners Africa Limited
Email: pr-consulting @aa-ic.com